Advanced Driving Training for Community Patrollers By: Dharni Manga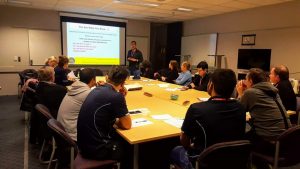 North Harbour Community Patrol (NHCP) have added a specialist 'Advanced Driving Training for Experienced Drivers' course to their in-house modules. It is a refresher course to facilitate safe driving. This training certifies patrollers within Health & Safety guidelines to ensure the safety of each individual patroller and their passengers.
NHCP have teamed up with 'Top Gear Driving School' to run three – hour sessions specifically designed for Community Patrol NZ. Sessions are led by Top Gear's Senior Assessor, Armando DiMuro, a highly qualified testing officer and instructor who runs each session as an interactive course. The course provides patrollers with specialised lessons on driving at night, safe handling of vehicle, preventative actions, distance perception and vehicle protocols in emergency incidents. It also prepares patrollers for recognising and managing attitudes and behaviours of risk driving i.e. fatigue, road rage, drink/drug driving. The course also involves spot quizzes and self assessments.
"Safe driving is about… thinking, being observant, and…
 preventing hazards rather than being good at overcoming them.
It's about courtesy and consideration to others."
Armando DiMuro
After the theoretical section, the instructor conducts on road driving tests on each patroller observing their driving skills and real-time response to emergencies. He then prepares a full report outlining driving concerns  and/or issues drivers should be wary of during patrol. An official certificate is issued at the end of the course.
Jane Hunter, Operations Coordinator of NHCP says
"As an experienced emergency vehicle driver at the start of the
course I assessed myself at an 8 [out of 10]
however, by the end I rated myself as a 4 [out of 10].
I could not believe all the rules and regulations I had forgotten"
Top Gear have decided to give a special rate for Community Patrollers of $30 per person compared to their regular cost of $250 per person. The course is run with a group of 10 participants.
This advanced training helps our patrollers better patrol the streets of New Zealand making it a safer place for all. It increases driving awareness, safety, and the ability of the patrollers to handle emergency vehicle situations.
NHCP have made this course mandatory for all their patrollers and are intending to run the course for next 2-3 months until all their patrollers have completed it. They have extended an open invite for other patrol groups to join.
Please contact Jane Hunter by email on jane@huntedresources.co.nz  or visit http://www.drivingschool.net.nz/refersher_course_for_experienced_driver  for more information