This story was contributed by Jane Hunter, Operation Coordinator, North Harbour Community Patrol.
North Harbour Community Patrol joins a multi-agency project group to address rising crime in the Albany/Auckland area.
The level of construction and expansion in the retail & commercial space of the Albany district has coincided with a rise of opportunistic crime in the area – something that's becoming a significant issue for the wider North Shore community.
Theft, vehicle-related crime, along with all other categories of crime Police respond to are of particular importance to the community and play a huge part in them being safe and feeling safe.
The Albany area is a complex one to govern due to the number of groups that have a vested interest in the overall area, its expansion, and its success. To discuss how best to respond to the recent crime wave, a gathering of decision-makers North Harbour Patrol at their July AGM. from various interest groups was held, with the purpose of devising a coordinated problem-solving approach to the Albany area. Various agencies and companies that are working in the vicinity work through common issues with a view to reducing incidents of crime, and ultimately making it a safer spot for the community.
A one-day seminar with persons from the multi-agencies was held. The agencies included: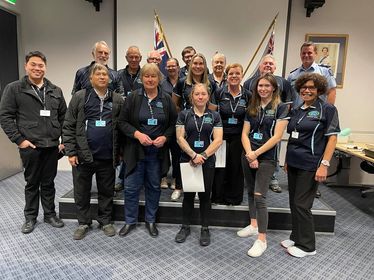 Local Regional Community Board (Hibiscus/Albany/Bays)
Joint Transport Operations Centre (JTOC)
Auckland Council – planning & IT
Scentre Group / Westfield
North Harbour Business Association
Wilson Parking
Auckland Transport
Waitemata East Police
North Harbour Community Patrol
The inaugural meeting identified the primary hot spot crime areas and those with high vehicle crime as well as learning about CPTED (Crime Prevention Through Environmental Design). From there we set about applying those principles to the Albany area. Each agency left this meeting with a raft of tasks and requests to return to the next meeting with some proposed solutions.
An area was identified as a major source that crime was emanating from – Hooten's Reserve.
This huge parking area, backing into a bush, had been one of the largest collections of criminal, anti-social behaviours, drug dealing, homelessness, and boy racer events.
NHCP patrols this area, with each patrol returning intel on who was occupying it. The NHCP was well known to the occupants, who didn't take kindly to our presence, greeting Patrollers with suitable abuse & intimidation. Most nights, the total number of permanent overnighters reaches about 30, and overall vehicle, junk, tents, dogs, and piles of rubbish average in the size of 60 vehicles.
A secondary source, particularly with vehicle crime, was the large Park 'N' Ride car park set up by Auckland Transport at their Albany Hub which connects with buses leaving via the motorway to Auckland CBD.
After a series of meetings over 3 months, an overall agreement was formed with each agency's contribution to the implementation.
This plan included increased patrol visibility, safer plates events, and a large Safer Plates event for all Westfield staff who parked in the area both day & night. Additional lighting, installation of barrier arms, large bollards, new signage outlining offences and penalties, extra vehicle registration ID, facial ID registration, extra fencing of access areas, and finally a trespass notice to occupants along with assistance for housing those who lived in this area permanently.
The project has been a huge success! Hooten's Reserve is now cleaned up and is a much safer place for local residents & visitors. Vehicle crime in the Park 'N' Ride area, which was experiencing around 6 car thefts daily, is now significantly reduced thanks to the collective efforts of local entities.
NHCP collectively with other agencies made real tangible changes to the area that will benefit the community and our respective organisations.