Papakura Community Crimewatch Patrol played host to a training day on Sunday, April 11th. Attended by Patrollers from Pukekohe, Pokeno, Mt Wellington, & Waiuku Patrols, they received training from both our partners in Police and Fire & Emergency. This experience aimed to show Patrols more of what they can do, along with how they can better assist our partners. The Chairman of Papakura Community Crimewatch Patrol, Glenn Torrens, has provided a statement on the event, which can be read below: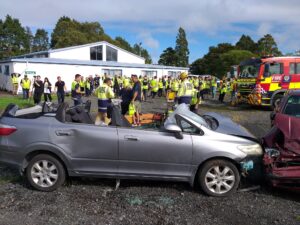 "The day started with addresses by Police Inspector Dave Glossop, City Councillor Daniel Newman, and Papakura Patrol's Patron Judith Collins. They thanked everyone for the work that we do that helps keep the communities that Patrols serve safe. We then had the Fire Service & Police Serious Crash Unit detailing how Patrollers can Counties Manukau District Training Day help at crash scenes. We learned where to set up cordons to stop the public from getting involved, along with how to preserve the crash scene for the Serious Crash Investigation team, and of course, how to keep ourselves safe. Afterwards, we moved outside to a mock-up crash scene where both Fire & Serious crash were able to demonstrate what they had been talking about. We also witnessed a demonstration of how quick the Fire Service can turn a people mover into a convertible.
The day was handed to Police after this, as two Police dog units arrived to tell us what they required from Patrollers when dogs are tracking a suspect. Which is to keep well out of the scene and stay in the car! We can search the surrounding area looking for people that may be trying to hide or evade being seen. If we see someone, we report this to 111 immediately. We inform the operator of what incident we are reporting on so that information can be passed on to ground teams quickly. We then moved outside to meet the dogs and watch the ferocious force with which dogs can hit a suspect when taking them down.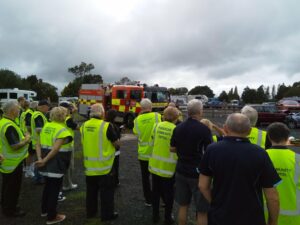 Lunch was later called, with Fire Service staff & Dog unit constables there answering our questions. During lunch Eagle (the Police helicopter) arrived and landed on the parade ground at the front of the hall. We split into two groups. The first out at the helicopter having all the equipment explained, and what the crew do from their positions in the aircraft. While the other group were treated to watching some actual footage of the helicopter in action. This included searching for missing people, tracking offenders evading police either, advising units on the ground of dangers, and giving dog units advanced warning of other dogs in backyards they are tracking through.
The day finished with afternoon tea and a Q&A with the Eagle Crew. A great day all up with loads of positive comments from all of the Patrols present. Special thanks to NZ Police, NZ Fire Service and all the helpers on the day!"