Howick-Pakuranga Community Patrollers Assist Police in Catching Sexual Predator By: Dharni Manga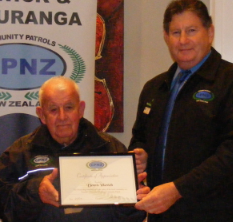 In July this year, Howick-Pakuranga Community Patrollers assisted in locating a man who had been sexually harassing young women in the Bucklands Beach area.
Auckland Police have been on the lookout for the offender since January 2019.
"We were unsure of this male's motives and had sought to try and identify him, but were unsuccessful."
– Sergeant Brett Meale, Howick Police.
When the police received another complaint from a young woman regarding the same man who had approached her and tried to kiss her at the bus stop across from the Pakuranga Plaza, the Howick-Pakuranga Community Cop set up a 'hot-spot' location in the area surrounding the Pakuranga Plaza.
The Howick-Pakuranga Community Patrol sprung into action and carried out patrols of the area. A man matching the description was spotted near the Pakuranga Plaza by a Howick-Pakuranga Patroller. She was quick to take photos of the suspect which helped  Police identify the suspect.
Only a few days later, the patroller was again out on patrol with her patrol partner when they spotted the man at the bus stop across from the Plaza. The patrollers were quick to contact the police as they continued to observe the man get on a local bus while a Police response team made their way to the location. The patrollers not only relayed the bus' registration number back to the police but also followed the bus until Police were able to take over.
The man was observed getting off the bus near Bucklands Beach, enabling Police to swoop in and  question the man. As a result, Howick Police arrested the man and charged him with several offences including Indecent Assault on a number of young women.
Howick Police are extremely grateful for the work carried out by the Howick-Pakuranga Community Patrollers;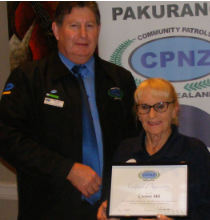 "Their outstanding work in identifying this male and
 subsequent photos and observations, has certainly allowed the
Police to make a timely arrest and will no doubt prevent
other young females becoming subjected to his behaviour."
   – Sergeant Brett Meale, Howick Police.
The partnership between Community Patrols of NZ and Police continues to provide invaluable results for the communities both organisations serve.
At a recent celebration of 25 years of service by the patrol to their community, the two patrollers were awarded a Certificate of Appreciation by the Chairman of CPNZ, Chris Lawton.