Community Police officers work extremely closely with New Zealanders, often providing hands-on care to prevent crime in communities. One of Auckland's most well known Community Cops is Constable Heber Gasu, who was the Glen Eden Community Cop for four and a half years. 
Who is Constable Heber Gasu: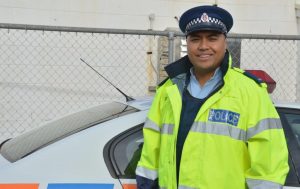 Constable Heber Gasu became a Community Cop after he took an interest in family violence and prevention work. He describes the role as; 
"A blessing in disguise [as it] charges your community batteries by working with schools, businesses and families on an individual and personal basis". 
Heber's work involves a lot of thinking outside the box as a lot of community-related crime is caused by opportunistic offending, due to hunger, unemployment, and family situations. Therefore, he must treat each situation with caution as well as with compassion as simply sending the offender to jail is not a long term solution. Heber believes that Community Cops have the power of changing mindsets in the community space. 
While Heber has the power of a 'regular Police officer', he (and other Community Cops) regularly advertise their personal phone numbers to members of the public in case a situation arises and they need help. This is particularly beneficial to neighbourhood businesses and schools as they have a personal connection with their Community Police officer. Community Cops are essentially the face of the Police. 
As such, Community Cops often work alone in their own police cars. Heber oversees the Waitakere area from Glen Eden to Piha and reports to his sergeant in New Lynn.  
Involvement with CPNZ:
Heber's work as a community cop has been pivotal for the non-profit organisation, Community Patrol of New Zealand (CPNZ) and in particular the Waitemata District. 
Community Cops and Community Patrollers work hand-in-hand to prevent crime in the area. Community Patrollers are essentially the eyes and ears of the Police. They are volunteers; regular people who are retired or have day jobs, some who have been victims of crime, some have not but have a duty to serve. 
Community Cops can't be everywhere therefore Heber makes it a point to liaise with his Community Patrol groups. Some Community Cops have two or three patrol groups set up while others have none. However, working with them eases the workload if they are properly notifying the patrollers with the latest hotspot information as the patrollers will then report any suspicious activity through 111. Patrollers have their own rules and mandates which prevents them from getting involved as they are only trained to report crimes to Police . This protects their safety and ensures they are not disruptive to Police investigations or protocols. At this time, some front-line Police officers don't actually know about their patrollers and therefore are not fully engaging with them. Constable Gasu says;
"My hope is that others see the value of Community Patrols – it's up to the community to take on the initiative to engage with the patrollers. They are passionate about the safety of the community and are there to help.
 Picture this; They're in their cars, they have their hi-vis fluro uniforms, ID tags, that in itself gets people looking, "who are they?" 
The officiality of the CPNZ uniforms and vehicles has the power to reduce or prevent potential crime in areas and hotspots. While the measurement of crime prevention is very difficult, Police and CPNZ members alike have received a lot of positive feedback on their work.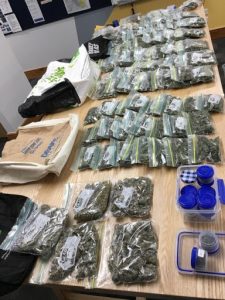 We see the benefits of Community Cops and CPNZ patrollers working together from the Queenstown drug bust where, New Zealand's eyes and ears, were out patrolling the streets of Queenstown when they were notified about a vehicle which smelled of cannabis. Queenstown Community patrollers took to the streets and were able to find the vehicle two hours later in a completely different location. The patrollers were quick to alert the Queenstown Police resulting in the arrest and deportation of two French nationals who were found with $50,000 worth of cannabis in April this year.  
That said, it is easy for patrollers to lose momentum if patrollers feel as though they are undervalued. Heber has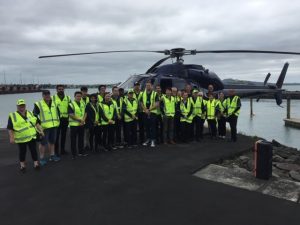 worked closely with community patrollers to retain them by organising trips to ACOP (Auckland Transport Operations Centre) for patrollers to see the behind-the-scenes activities of road control, and the 111 communication centers as well as exposing them to the high end operations such as NZ Police Maritime Unit, Police Eagle Helicopter, and the Westpac Rescue Helicopter . 
"[Heber] is one of our biggest supporters and never misses an opportunity to promote Community Patrols which we are very grateful for.  His replacement will certainly have big shoes to fill." – Annette Stevens, CPNZ Police Liaison.
While Heber believes "the value of Community Patrol has been invaluable," he is excited for his new role as a 'Youth Engagement Officer' where he will be working with youth who are on the cusp of commiting crimes by providing them with social services.  
CPNZ Chairman Chris Lawton has worked close with Heber on a number of matters affecting the two organisations; in his words
Heber Gasu exemplifies the fantastic relationship between individual Police Officers and Community patrollers. He serves his community and fellow New Zealanders above the call of duty. Thank you, Constable Heber Gasu for your dedication and support of CPNZ. 
You can see Constable Gasu in the new Police Campaign for the 105 non-emergency service  which is now on-line if you need to call-in about a historical crime.