CPNZ Patroller Profiles aim to shine a spotlight on the range of talents amongst our Patrollers, letting them tell their own stories in their own words. Through this project, CPNZ aims to celebrate the outstanding accomplishments of CPNZ Patrollers and draw attention to the wealth of talent amongst CPNZ's ranks.
"In my lifetime, nothing trained me up more for my time as a Patroller than my career as a Glass Technologist! The first two bomb threats were easy meat for me as I held no responsibility! The third one was a different kettle of fish as it landed right in my lap figuratively speaking. 
In the UK I worked for Pilkington Glass, a multinational company dealing in glass manufacturing. 1971 saw me working in production when a 10-week strike took place. I was put onto shifts keeping the furnaces safe. Part of my duties was to offload heavy fuel oil off trains, sometimes into the early hours. Leaving home early one evening I missed a news item saying that the strikers had threatened to blow up the fuel trains. Luckily, they failed, so I was brave after the fact.
Wales was my next posting at a time when the Welsh Nationalists were very strong. One morning, we received a call from someone claiming to be with the Welsh Nationalists, saying they had planted a bomb. This seemed highly unlikely as security was very tight at the plant due to the 4 million pounds of platinum stored on the plant.
Protocols meant that the plant could be easily shut down so staff, myself included, were evacuated to our playing fields on a beautiful sunny day whilst a thorough search turned up nothing. So we were all back to work with a tale to tell.
Both these scenarios made us think of Dad's Army with Captain Mainwaring issuing the immortal "Don't panic, don't panic, there's a bomb in the bank, don't panic" which my friend Richard Sisler has illustrated.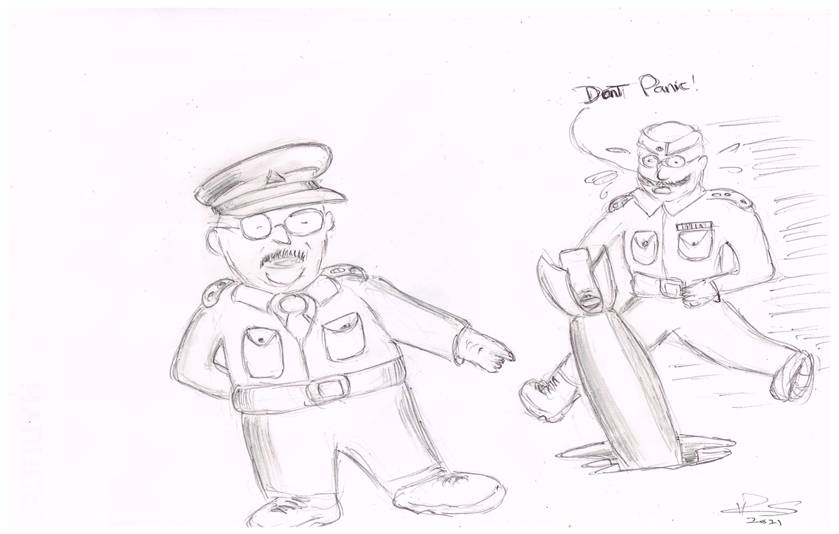 These experiences probably influenced me in moving to quiet, peaceful New Zealand where I took up the role of Production Manager at a plant in Whangarei making sheet glass. As the manager, I was on call for any problems – which thankfully there were few of. Until at 2am one morning the phone rang, so I knew it was either work or the mother-in-law from England who still hadn't realized we were in a different time zone! Not sure which would have been the worst.
The night shift security man informed me he had received a call saying there was a bomb planted under the furnace. Don't panic, don't PANIC. Out of bed, into a car on deserted streets at a speed well above the limits, I'd convinced myself it was a hoax, but what to do? I took a search party under the tank while all non-essential staff were sent to the work's recreation club a few hundred metres away. After a thorough search, nothing was found but we decided to run on minimum staff until the shift change started at 7 am. 
So for Patrolling in Howick and Pakuranga I am trained up; which came in handy one day. I came across an unexploded bomb in the street. Breathe easy, as fortunately, a homeowner had created a postbox.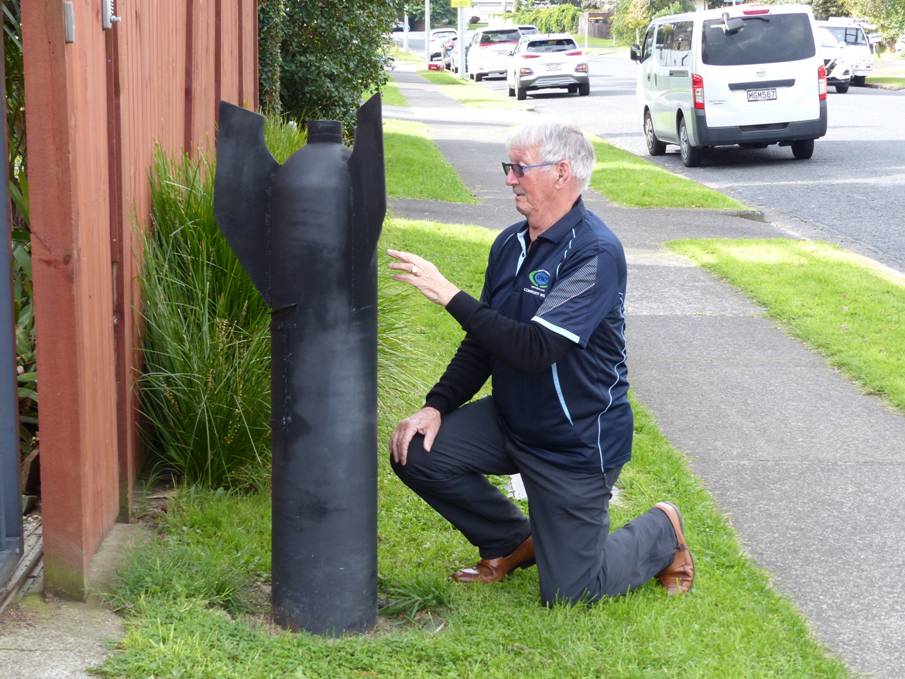 As part of my weapons training, I was involved in weapons stretching from low calibre handguns to NATO rifles. This all took place in NZ. We developed bullet-resistant glass which had to be tested to a standard. The first testing was done in a quarry in Whangarei with the local Police. Even with earmuffs on, the sounds made me jump out of my skin. Refinements to the makeup of the glass interlayers and production, now in Auckland, resulted in testing being carried out in a naval base on the North Shore. The product was still not as good as Australian competitors based in Perth so I was dispatched to Perth to look at their operation. Then onto the Puckapunyal Army Base north of Melbourne for testing of their product. The base was well set up with concrete bunkers to shoot from by the army marksmen. At the end of testing, we had some samples left over so the marksmen asked if they could switch to automatic continuous fire. They then blasted the glass until it went right through. Frightening!"