Te Kauwhata Community Patrol and their new car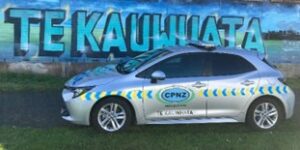 If you live in or near Te Kauwhata you may have noticed our new community patrol car driving around Te Kauwhata and surrounding areas as patrols get back to normal following the various lockdowns.  Any suspicious activity or problems are reported to the Police or other relevant organisations and we do hope this is helping to maintain a safer environment for all our residents and visitors.
The Patrol has been busy with other activities as well
In conjunction with SVA (the Student Volunteer Army) and our New World Supermarket, Te Kauwhata Patrol members were registered to assist people isolating at home with Covid by receiving their grocery orders, doing their shopping, and delivering the parcels to their homes. Orders were posted three times daily by SVA.  Although there appeared to be minimal demand for this in Te Kauwhata, the service was available to those in need and was extremely well organized by SVA.
Our latest venture is another joint project "Safer Plates".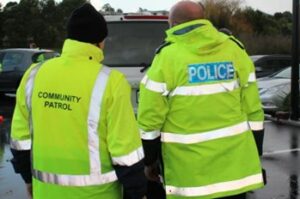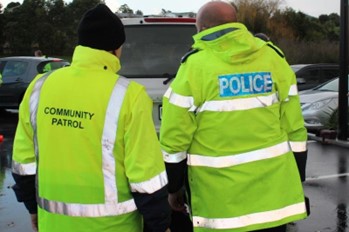 This project is a joint venture between CPNZ and NZ Police to replace the screws on car number plates with safer security screws helping to deter car and plate theft. 
On the afternoon of Friday 10 June, on what appeared to be the wettest day of the month, Te Kauwhata Police, Neighbourhood Support, and Community Patrol were in the New World Carpark replacing vehicle number plate screws with security screws for a gold coin donation.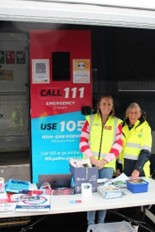 This was also an opportunity for local residents to come along and have a chat; find out what each organisation does and maybe see how you could help keep our community safer.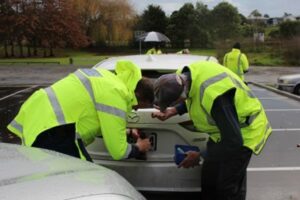 The afternoon was a great success with over 70 cars getting security screws fitted to their number plates.   Our local police enthusiastically joined in beside patrol members despite the rain showers.  Unfortunately, some people missed out as we had to stop early after running short of some types of screws but we will be back – so look out for the next event.
We are always looking for new members.