Henderson Community Patrol and  Rodney Neighbourhood Support join together at 2019 Kumeu Show By: Dharni Manga 
Over a number of years Waitemata's Henderson Community Patrol (HCP) have been going to the Kumeu Show (Sometimes known as the Kumeu A & P Show) to promote and advocate for Community Patrols of New Zealand (CPNZ); the charity organisation where community members help the Police keep the community feeling safe. Commonly known as "The Eyes and Ears of New Zealand Police", the show has exposed CPNZ to the wider population resulting in a number of new recruits to the local Community Patrols in the district. Members of the public are often surprised by the size of the national CPNZ operation; how well organised they are, the high level of training provided to all patrollers as well as the partnership CPNZ has with the Police.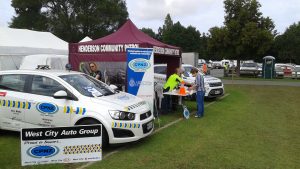 This year, HCP partnered with Rodney Neighbourhood Support (RNS) to get a better handle on crime prevention. Having the two organisations working together has been extremely beneficial for both organisations as they shared a stand in this year's Kumeu show. The two organisations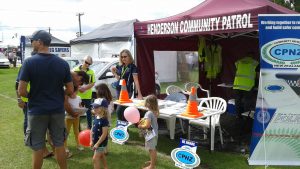 worked together to hand out promotional material for both groups allowing them to engage with the wider community.  
CPNZ District Support Team Leader  Wayne Black says HCP and RNS have developed a close working relationship "They will always promote each others cause at every opportunity."
Although, HCP does not know the exact number of additional volunteers who found CPNZ at the Kumeu show stall, they are hopeful as they gave out a significant amount of information about Community Patrols to those who showed interest. 
HCP and RNS will be at next year's Kumeu Show, events like this are also a great way for current patrollers to become more involved by meeting members of the community and explaining the work done by a community patroller. 
Drop by your local council and ask what community events are happening in your area CPNZ national office can assist with advertising signs and brochures that can be handed out to members of the community. Partner with other local organisations and double the benefits of a safer community!